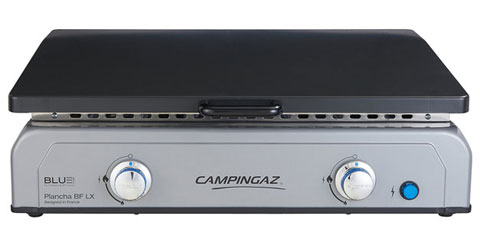 Enjoy incredible cooking versatility with our sleek and stylish new Plancha BF LX from Campingaz. 
Plancha BF LX features patented Blue Flame Burners to deliver exceptional even heat distribution. 
Perfect for creating a wide range of different dishes, the Plancha BF LX is perfect for families or groups who want to enjoy eating outdoors without compromising on variety.
Spesifications:
Cooking surface: 2.400 cm²
Cooking dimensions: 60 x 40 cm
Burner: Aluminised Steel
Burner Technology: Blue Flame Technology
Number of burners: 2
Power: 6 kW
Gas consumption: 437 g/h
Cooking surface material: Enamelled Cast Iron
Ignition: Electronic
Protective lid: Yes
Weight: 21 kg
Dimensions open (L x W x H) in cm: 66 x 53 x 56
Dimensions closed (L x W x H) in cm: 66 x 53 x 22
Optional trolley: Deluxe Trolley